Installing an electric powertrain in a classic vehicle is nothing really new, as people have been doing it for years. Ruf in Germany has offered electric Porsche 911s for a while with some free energy courtesy of a hydroelectric power plant owned by the family, others have modified traditional VW Beetles, and still others have worked on the original Mini and similar cars. Still, an officially-sanctioned factory conversion of a valuable classic vehicle to electric power is something very significant.
In 2017 Jaguar presented its E-type Zero concept, and in 2018 jaguar Classic announced it would offer fully electric "Zero" E-type Jaguars to customers. It will restore selected cars and install the electric powertrain in them, and will also offer an identical conversion to customers who already own such cars. In order to preserve the value of the base vehicle, the Zero conversion is engineered to be completely reversible.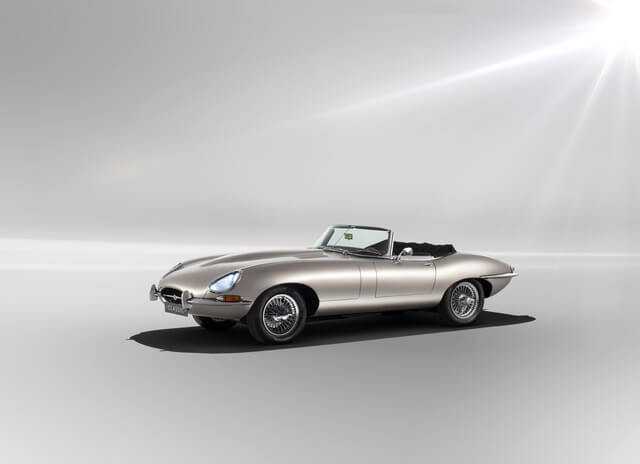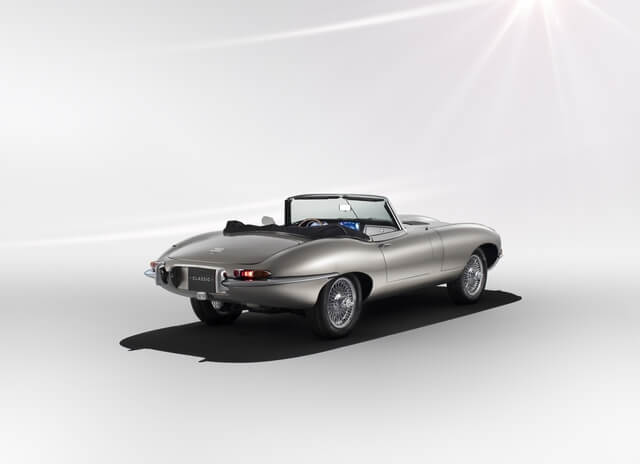 The first cars will be delivered in the summer of the year 2020, and now Jaguar Classic is collecting "expressions of interest" from potential clients (if you are interested, please contact the company at: [email protected] or [email protected] / +44 (0) 203 601 1255 / www.jaguar.com/classic ). The price of the conversion of an existing vehicle, as well as the price of a complete Jaguar E-type Zero, will be revealed in due course.
The Zero car was from the outset engineered to look like an original E-type and to drive like one, however with markedly better acceleration. Jaguar Classic are confident that a range of 170 miles (275 km) can be offered. The car uses a battery with a capacity of at least 40 kWh, which can be recharged in 6 to 7 hours, depending on the power source. Because the powertrain module, containing the battery and the electric motor, replaces the gasoline engine, placing a similar weight in the same location (electric motor is placed behind the battery pack), the balance of the car and its handling remain unchanged. A refurbished standard differential is retained, but the propshaft is new. Other alterations include an available modified dashboard with touchscreen controls and a modern infotainment system. Some instruments in the cockpit are modified, and the car receives very efficient LED headlamps.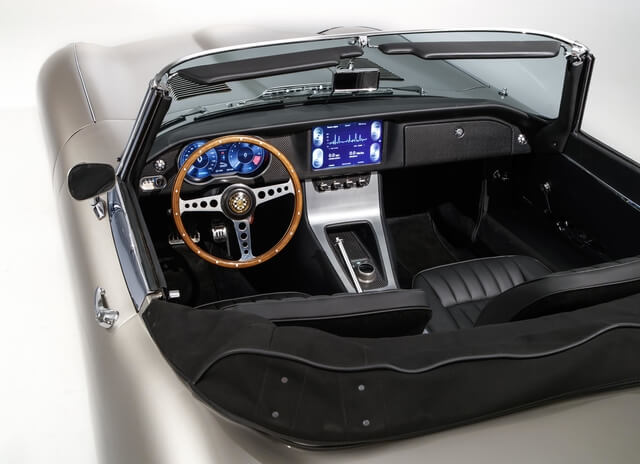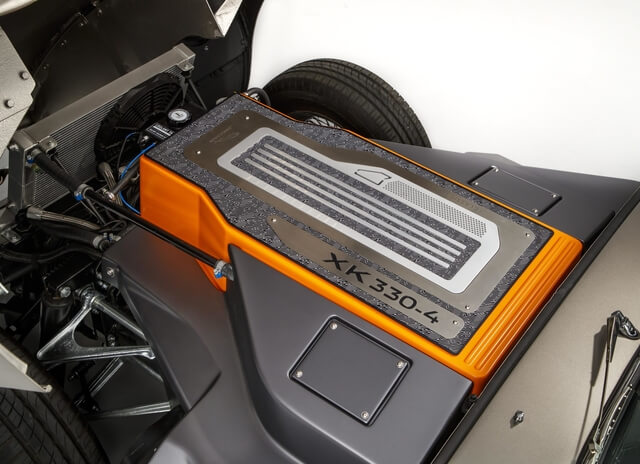 Tim Hannig, Jaguar Land Rover Classic Director, said: "We've been overwhelmed by the positive reaction to the Jaguar E-type Zero concept. Future-proofing the enjoyment of classic car ownership is a major stepping stone for Jaguar Classic. E-type Zero showcases the incredible heritage of the E-type, and the expertise and craftsmanship at Classic Works, while demonstrating Jaguar Land Rover's dedication to creating zero emission vehicles across every part of the business, including Jaguar Classic."
Time will show how popular such conversions will turn out to be in the long run, and whether they are just a passing fad. At the moment, however, Jaguar Classic has responded swiftly to changes in public sentiment, and will soon deliver environmentally-friendly cars of a new type. It has to be noted, however, that any classic car which is still running, is in fact extremely good for the environment as it has not been replaced several times over its lifetime with new vehicles whose production also produces greenhouse gases and consumes a lot of energy.