"Lamborghini is intent on leading the advance to the highest level of super sports car technologies and driving emotion. This is the essence of the new Huracán EVO. It takes the extraordinary abilities of the Huracán Performante and combines state-of-the-art vehicle dynamic control to amplify the everyday Huracán driving experience," says Stefano Domenicali, Chairman and Chief Executive Officer of Automobili Lamborghini. "The Huracán EVO is the very definition of evolution: it is a step ahead, redefining the segment parameters. It is remarkably easy to drive, while delivering the most responsive, sensory and agile driving experience, in every environment."
The new Lamborghini Huracán EVO features the 5.2 liter naturally-aspirated Lamborghini V-10 engine, uprated to produce more power as well as an emotional and powerful sound, with titanium intake valves and a lightweight exhaust system. The Huracán EVO produces 640 hp (470 kW) at 8,000 rpm with 600 Nm of torque delivered at 6,500 rpm. With a dry weight of 1,422 kg, the EVO reaches a weight-to-power ratio of 2.22 kg/hp, accelerates from 0-100 km/h in 2.9 seconds and from 0-200 km/h in 9.0 seconds. Braking from 100 km/h to 0 is achieved in just 31.9 m, with a top speed of more than 325 km/h.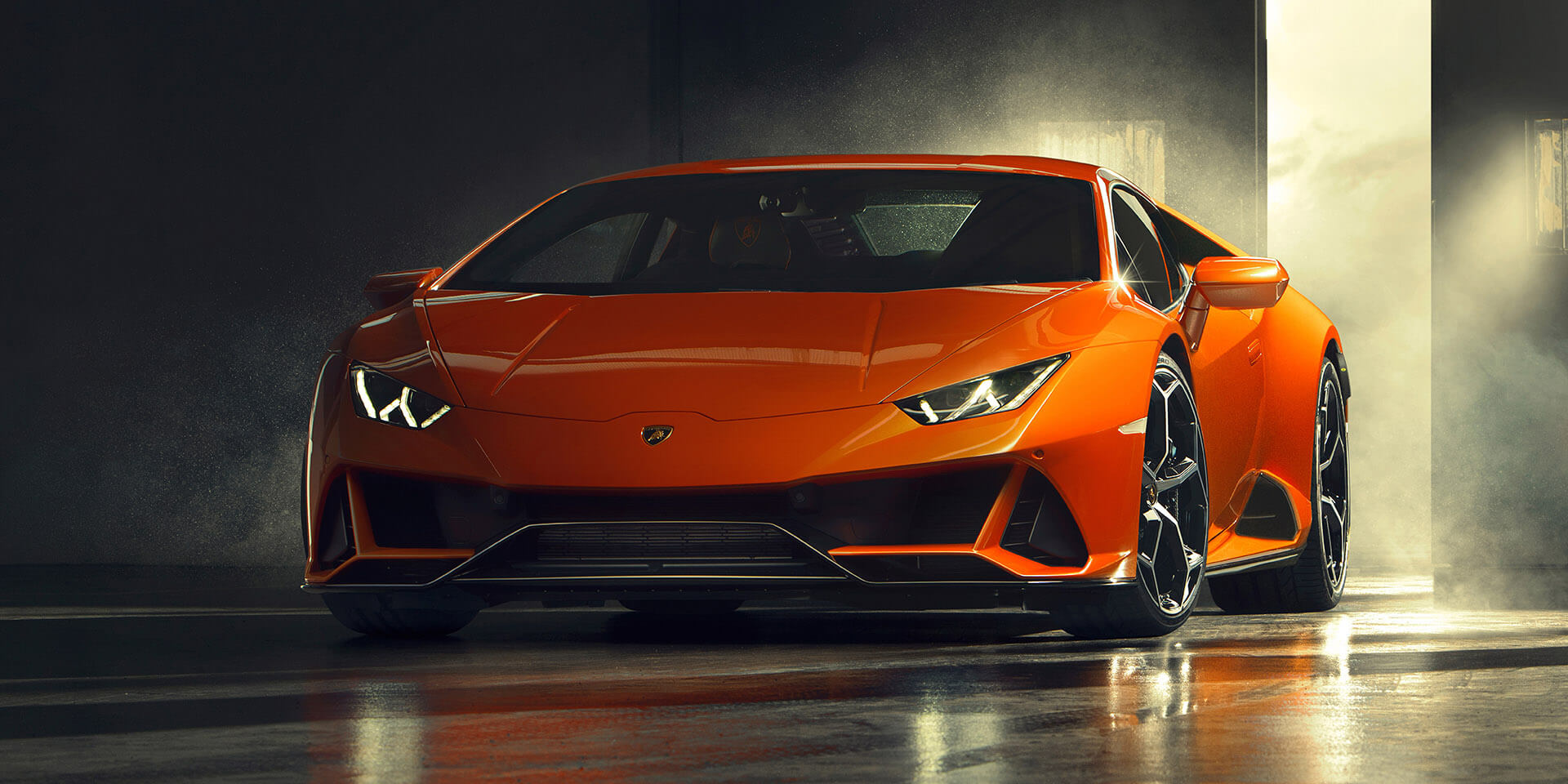 The Huracán EVO features new Lamborghini rear-wheel steering and a torque vectoring system working on the four wheels, while at the heart of the car is the new feature of Lamborghini Dinamica Veicolo Integrata (LDVI): a Central Processing Unit that controls every aspect of the car's dynamic behaviour, fully integrating all of the car's dynamic systems and set-up to anticipate the next move and needs of the driver, interpreting this into perfect driving dynamics. Lamborghini Piattaforma Inerziale (LPI), a comprehensive set of accelerators and gyroscope sensors placed at the car's center of gravity, has been enhanced to version 2.0. With improved precision, it monitors in real-time the dynamic vehicle attitude regarding lateral, longitudinal and vertical accelerations, as well as roll, pitch and yaw rate. The magneto rheological suspension, upgraded to version 2.0, instantaneously adapts the damping following inputs from the LPI. A new advanced traction control system together with enhanced all-wheel drive and torque vectoring, allows traction to be directed to a single wheel as required.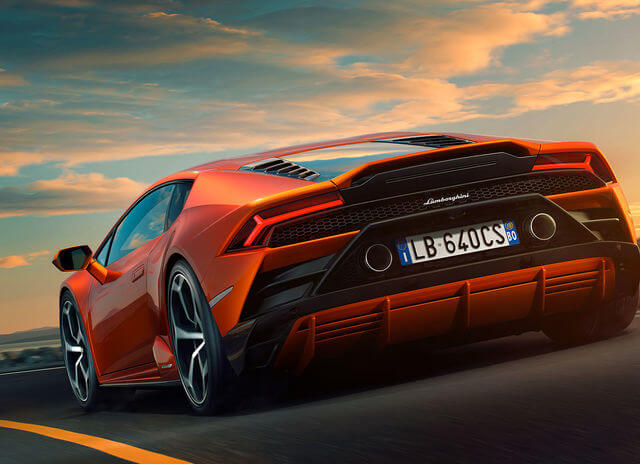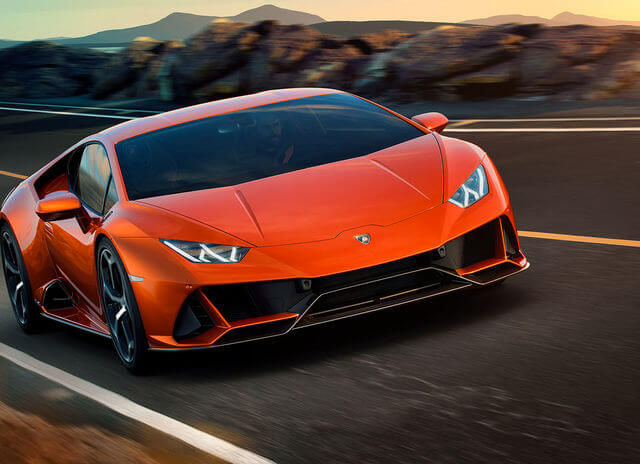 Enhanced Lamborghini Dynamic Steering (LDS), able to provide higher responsiveness in corners while requiring the lowest steering angles, is now coupled with rear-wheel steering in order to ensure agility at low speed, as well as maximum stability in high-speed cornering and under braking in the most severe conditions. The unique combination of all these systems is governed by Lamborghini's LDVI to create a super-agile and responsive car with unparalleled level of control. Processing data in real time, the Huracán EVO recognizes the driver's intentions through steering wheel, brake and accelerator pedal inputs, engaged gear and the driving modes selected via ANIMA controller: STRADA, SPORT or CORSA.
A new 8.4" HMI capacitive touchscreen, located in the centre console just above the start button, puts connectivity at the driver's fingertips, with multi-finger gesture control. Governing car functions including seats, climate and the status of the LDVI system in real-time it also puts all infotainment, such as Apple CarPlay with smartphone integration, at the cabin occupants' disposal. A multimedia system incorporates connected navigation and entertainment including web radio and video player. The intuitive interface allows voice commands and puts the driver in touch with Siri. An optional dual-camera telemetry system is also offered via the touchscreen, allowing advanced telemetry recording and analysis, which helps with track driving. An integrated high-capacity hard disk is also available.
Both the exterior and interior of the Huracán EVO are designed to maximize the specification possibilities, with several new options such as a wide range of Style Packs in shiny black and body color as well as Lamborghini's Ad Personam program, which offers virtually limitless opportunity for owners to customize their Lamborghini. The first customers will take delivery of the new Lamborghini Huracán EVO in spring 2019 at suggested retail prices as follows:
UK GBP 165,256 (suggested retail price taxes excluded)
USA USD 261,274 (suggested retail price taxes/GST excluded)
More information: www.lamborghini.com